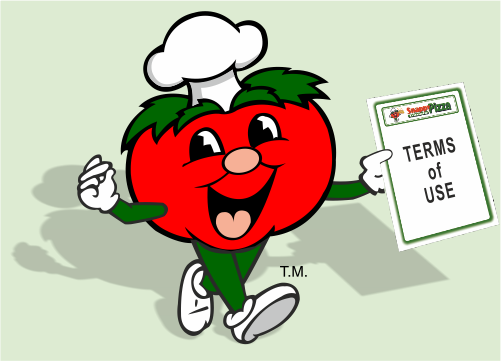 Snappy Tomato Pizza Ltd has created this website and applications for your personal entertainment, information and communication. Use of this Website and mobile, tablet and other applications (our 'Sites') is subject to the terms ('Terms') set out below and all applicable laws.
By accessing, browsing, using or registering on this Website and/or Applications, you confirm that you have read, understood and agree to these Terms in their entirety and all other applicable laws. If you do not agree to these Terms in their entirety you must stop using the Website and Applications. 
Snappy Tomato Pizza is a franchised business, where all stores are owned and operated by independent operators trading as Snappy Tomato Pizza ('Snappy Tomato Pizza Franchisees') The Terms set out herein relate solely to your use of our Sites which are owned and operated by Snappy Tomato Pizza Ltd
USING OUR SITES
Our Sites are made available free of charge for your personal use. We do not guarantee that our Sites, or any content on them, will always be available or be uninterrupted. We will not be liable to you if for any reason our Sites are unavailable at any time or for any period. We may discontinue or change all or any part of our Sites without notice.
Your use of our Sites, including any orders you place, is governed by our Terms and Conditions of Sale, Privacy Policy and our Cookie Policy. Please read these carefully, as they include important terms which apply to all users.
You are responsible for making all arrangements necessary for you to access our Sites and for ensuring that all persons who access our Sites through your internet connection are aware of these terms of use and other applicable terms and conditions, and that they comply with them.
WHAT YOU CAN USE FROM OUR SITES
You may, subject to the provisions on Ownership Rights below, download one copy of the materials contained in or displayed on our Sites and print off pages from the Sites for non-commercial personal use only. This is only allowed provided that you do not remove or alter any copyright and other proprietary notices contained on the materials and that all use is for lawful purposes only. Neither the content of the Website and/or Applications nor any part of them may be distributed, reproduced, modified, transmitted, reused, re-posted or used for public or commercial purposes without prior written permission from Snappy Tomato Pizza Ltd.
AVAILABILITY of MENU ITEMS LISTED
Please also be aware that some Snappy Tomato Pizza stores do not sell all of the Menu Items shown on the Sites and that all menu items are listed subject to availability. Whilst we make every effort to ensure that all menu items and special offers are up to date and available at all times there may be circumstances beyond our control when certain items my not be available.
PRIVACY and ACCOUNT SECURITY
Snappy Tomato Pizza Ltd is extremely concerned to ensure that your personal information is kept confidential and secure. Please review our Privacy Policy for how we collect, use, disclose and manage your personal information. Please remember, however, that you are responsible for maintaining the confidentiality of your password and account and any activities that take place on your account. Snappy Tomato Pizza Ltd will not be liable to any person for any loss or damage which may arise as a result of any failure by you to protect your password or account details.
INTELLECTUAL PROPERTY RIGHTS
Our Sites and their content, function and design, are owned by Snappy Tomato Pizza Ltd and all rights are protected in the UK and elsewhere by copyright laws, trademarks and all other applicable intellectual property rights and all such rights are reserved.
You may not, under any circumstances, distribute, reproduce, modify, transmit, reuse, re-post or use the content, functionality or design of our Sites (or any part of each) in any manner whatsoever, without first requesting and receiving prior written consent from Snappy Tomato Pizza Ltd.
If you would like to request permission to use any of the content from our Sites, please use Contact Us or email us at stponline@snappytomatopizza.co.uk
OWNERSHIP of TRADEMARKS
For the avoidance of doubt, the trademarks and logos (the 'Trade Marks') displayed on the Sites include the registered and unregistered trade marks of Snappy Tomato Pizza Ltd and of other businesses.
Nothing in these Terms of Use may be construed as granting any licence or right to use any of the Trade Marks without the prior written permission of Snappy Tomato Pizza Ltd or other proprietor of the Trade Marks. Any use of the Trade Marks, or any other content on the Sites except, as provided in these Terms and Conditions is strictly prohibited.
EXCLUSIONS of LIABILITY
The details contained in or displayed on the Sites are provided to give the best information available at the time and whilst we will do everything in our power to maintain the accuracy and functionality of the Sites, Snappy Tomato Pizza Ltd makes no claim that the functions contained will be uninterrupted or error-free. Snappy Tomato Pizza Ltd and any other party concerned with the development or delivery of our Sites will not be liable for any damages or injury howsoever caused including, but not limited to, any failure of performance, error, omission, interruption, defect, delay in operation of transmission, computer virus, or line failure. Snappy Tomato Pizza Ltd accepts no liability for any damages or injury that results from the use of, or the inability to use, the materials in the Sites howsoever caused.
Snappy Tomato Pizza Ltd uses all reasonable efforts to ensure that the Sites are free from viruses and other malicious content. However, Snappy Tomato Pizza Ltd assumes no responsibility, and shall not be liable for any damage to, or viruses that may infect, your computer equipment or other property on account of your access to, use of, or browsing in the Sites or your downloading of any materials, data, text, images, video or audio from the Sites.
Except where required by applicable law, Snappy Tomato Pizza Ltd shall not be liable to any person for any loss or damage they suffer as a result of viruses or other malicious or harmful content that they access from or via the Website and/or Applications.
You should use your own virus protection software and ensure that it is kept updated. You agree to indemnify and hold Snappy Tomato Pizza Ltd harmless from all liabilities, claims and expenses that arise out of the content you submit, post or transmit via our Sites. This also applies if you or any person for whom you are responsible uses or misuses any of our Sites or is in breach of any of these terms of use.
OWNERSHIP of MATERIAL YOU SEND to US
Any communication or material you transmit to Snappy Tomato Pizza Ltd or its Sites by whatever means, electronic mail or otherwise, including any data, questions, comments, suggestions, ideas, graphics or the like is, and will be treated as, non-confidential and non-proprietary. However, we will always comply with our Privacy Policy in respect of any personal information we receive from you.
Anything you transmit or post shall, subject to our Privacy Policy, become the exclusive property of and may be used by Snappy Tomato Pizza Ltd and certain companies performing services on our behalf (such as direct marketing agents) at any time and for any purpose, including, but not limited to, reproduction, disclosure, transmission, publication, broadcast and posting. Snappy Tomato Pizza Ltd is free to use any ideas, concepts, know-how or techniques contained in any communication you send to the Website and/or Applications for any purpose whatsoever including, but not limited to, developing, manufacturing and marketing products using such information.
LINKS to OTHER WEBSITES and APPLICATIONS 
Snappy Tomato Pizza Ltd has not reviewed any websites and applications which may be linked to our Sites and is not responsible for and does not endorse the content of any off-website pages or any other websites and applications linked to the Sites and is for your information only. Your linking to any other off-website pages or other websites and applications is entirely at your own risk.
COOKIES
By accessing, browsing, using or registering on our Sites you confirm that you are accepting any cookies which the Sites use. Please refer to our Cookie Policy for full details about the cookies we use and what they do.
CHANGES and UPDATES
All information given on the Website and/or Applications applies is correct at the time of listing, but is subject to change without notice. You should check these Terms of Use and other Policies occasionally to be aware of any changes. However, please note that any of the content on our Sites may be out of date at any given time, and we are under no obligation to update it. No information is intended to give rise to any legally binding obligation and may not be considered to make any representation on any matter.
THIRD PARTY RIGHTS
Only you and Snappy Tomato Pizza Ltd shall be entitled to enforce these Terms of Use. No third party shall be entitled to enforce any of these Terms of Use under any circumstances whatsoever.
LAW, JURISDICTION and LANGUAGE
Any matter that arises out of your use of the Sites is governed by English law and subject to the exclusive jurisdiction of the courts of England and Wales. All contracts shall be construed in English.